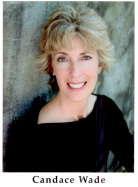 Candace Wade
wrote the book
Horse Sluts
- The Saga of Two Women on the Trail of Their Yeehaw. She has contributed to
Horse Nation
,
Mature Lifestyles, Riding and Writing
and
The Tennessean
. Candace writes political diatribe, wrote "Hillary's View" pet column and four unpublished film scripts. She learned to ride at age 46. Still rides at 59+. Member of
American Horse Publications.
"WINNIE" Award Winner
for journalism - magazine -- EQUUS Film Festival NYC 2016 for "Saving Theo" series
American Horse Publications
press announcement
cawadeca@gmailcom
The Tennessean
- Candace Wade WINNIE winner
"My girlfriends Up North in Michigan took your book with them camping, read out loud around camp fire at night! Drinking wine and reading "Horse Sluts" out loud! They laughed so hard they were crying!" CB Love 9/8/2017
Comments from editors: "
Always a joy to read, Candace." "Brilliant!" "You are a writer. And, pardon my French, a damn good one at that."
"
What a delight to read!" "
I'm glad you were willing to share your talent with our readers." "I began reading your book, it is a hoot. The format is wonderful and your euphemisms hilarious."
---