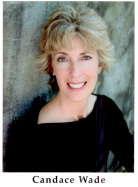 Candace Wade
wrote the book
Horse Sluts
- The Saga of Two Women on the Trail of Their Yeehaw. She has contributed to
Horse Nation
,
Mature Lifestyles, Riding and Writing
and
The Tennessean
. Candace writes political diatribe, wrote "Hillary's View" pet column and four unpublished film scripts. She learned to ride at age 46. Still rides at 59+. Member of
American Horse Publications.
"WINNIE" Award Winner
for journalism - magazine -- EQUUS Film Festival NYC 2016 for "Saving Theo" series
American Horse Publications
press announcement
cawadeca@gmailcom
The Tennessean
- Candace Wade WINNIE winner
Comments from editors: "
Always a joy to read, Candace." "Brilliant!" "You are a writer. And, pardon my French, a damn good one at that."
"
What a delight to read!" "
I'm glad you were willing to share your talent with our readers." "I began reading your book, it is a hoot. The format is wonderful and your euphemisms hilarious."
---